Sylvia Leydecker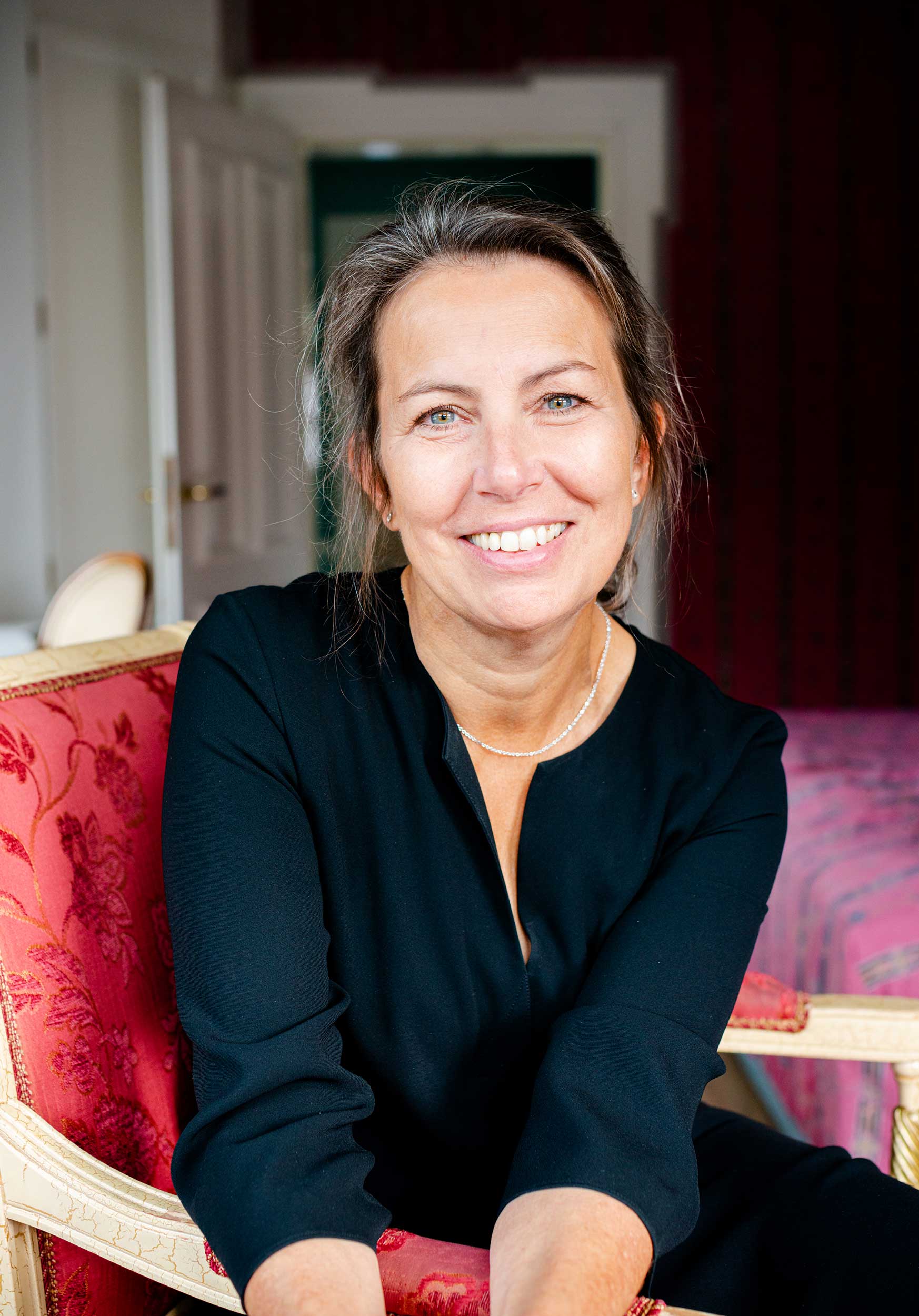 Sylvia Leydecker founded her interior architecture studio 100% interior, based in Cologne in 1997, in order to dedicate herself from the very start to companies that demand quality and atmosphere regarding their interiors. Since then, future orientation, tradition and innovation have been the interlinking components in her design thinking, which make up the final design and which are essential for her conceptional approach. In doing so, she repeatedly crosses boundaries and explores them in order to push things forward to further development process.
She's a registered Interior Architect (Architect's Chamber NRW), studied interior architecture at the University of Applied Sciences in Wiesbaden and the renowned Trisakti University in Jakarta / Indonesia and graduated as Diploma Engineer. Before studying, she gained international experience at Deutsche Lufthansa and got in touch with diverse cultures around the world from Europe, USA, Africa, Arabian countries to Far-East. Her sense of security, experience and brand were already shaped there, which is of great benefit for designing prosperous healthcare interiors today. Before that, she also gained valuable experience during longer stays abroad in Paris / France and Manchester / England / UK.
Know-how transfer is important to her, which is why she passes on her knowledge as an authoresse of international specialist publications, books (Birkhauser/ de Gruyter, AV Edition) and long-standing columnist for the magazine Health & Care Management as interior architect.
She had been invited as a consultant and artist in residence at the Interior Design Department of well-known RISD, Rhode-Island School of Design / USA, has given individual lectures at the Tu Delft, the HfG in Offenbach, the TU Berlin and the Rhein-Main University and worked as a guest critic at the TH Köln with students. She has been member of various juries and part of the advisory board of the healthcare magazine med Ambiente.
She volunteers at bdia, IFI and DDC and represents the interests of interior architects / designers.
In her private life, she is the mother of two adult daughters, connects her life in the City of Cologne with rural Countrylife.
The title "Interior Architect" was awarded by the Chamber of Architects in North Rhine-Westphalia (AKNW), Germany.
The relevant professional regulations are:
Baukammerngesetz NRW (BauKaG NRW, or Chamber of Construction Act, North Rhine Westphalia)
Durchführungsverordnung zum Baukammerngesetz (DVO BauKaG NRW, or Implementation Regulation of the Chamber of Construction Act)
Main articles of association of the Chamber of Architects NRW
Memberships
Past Vice President bdia (Bund Deutscher Innenarchitekten, German Association of Interior Architects)
Past Boardmember IFI (International Federation of Interior Architects/Designers)
AKG (Association of Healthcare Architects of the Society of German Architects)
DDC Advisory Board Member (Deutscher Designer Club or German Designer Club)
Planned in Germany
cc-NanoBioNet
DV-Nano (Deutscher Verband Nanotechnologie, German Nanotechnology Association)
Förderverein Bundesstiftung Baukultur (Friends of the German Foundation for Building Culture)
The 100% interior STORY
It was 1997 in Cologne, when things started soon after graduation and 100% interior was founded in Cologne. In the 1-room office within the family's spacious apartment, in the listed Art Nouveau building, with an equally historic fax roll, the first drafts were created there on the beloved drawing board and the 100% stamp logo was born. The office soon ended up in the best residential area at the botanical garden, but still in the basement on what felt like a luxurious 35 square meters, downwards, with a view of the home garden, washing machine in the kitchenette, monster CAD PC in fridge format. It was drawn with Rapidographs and Copics, while the first CAD perspectives were integrated.
The story continues, the 35sqm giving way to 60sqm in a 1920's British officer's mansion, succeeding a former doctor's surgery (whose 'Next Please!' sign still adorns our office today). Charming with a green facade and gingko tree next to the historic front door, it was ahead of its time in terms of the natural facade. In summer, the office merged seamlessly into the wild dandelion meadow through wide-open, airy windows, and an imposing red flocked Maria Theresa chandelier shone into the distance. 100% interior had slowly and surely specialized in law firms, but found its current healthcare specialization through a coup de foudre – the patient room.
The 100% interior team consisted of freelancers and interns, which soon resulted in the first permanent positions. Not much has changed, because the structure of the office still resembles that of an indie band.
The villa was renovated, the Virginia creeper unfortunately gave way to manicured lawns and square hedges, we moved to a spacious 100 sqm with lots of daylight in the near Veedel epicenter of real Riehl. Still close to Flora, we stayed true to the health care system in the medical center, total health care, with a marble facade, sun protection glass, elevator and underfloor heating, Best of Eighties, culture shock. Since then we have been enjoying the sound of sea lions from the nearby Cologne Zoo, the lively shopping street in our charming Cologne "Bullerbü", similar to arthouse cinema live and the adjacent schoolyards with the lively offspring, which you can hear from space, or even when you call us and the sun is shining.
We now have a comfortable Chesterfield sofa and our Cabinet of Curiosities in the entrance, a full-fledged interior laboratory archive with 1001 materials and a treasure chest, books, magazines, lots of space, plenty of room to unfold and a reserved visitor parking space.
And currently? It's high time to save our environment, we all know that, at least since the EU's Green Deal. But enough talked, said, done: We have said goodbye to the luxurious space and reduced it, thus using significantly fewer resources and saving them. This was possible because we changed our work processes with our partners. We radically got rid of folders, catalogs and outdated use of space and have moved with what we actually need, from the tranquil and charming Riehl to the inspiring Hipster-Area Agnesviertel. Now we are happy, because we are much more sustainable on a much smaller area, enjoy calmness, plenty of daylight and the charm of Milan's backyards. Of course, our treasure-boxes of materials are with us, without which nothing works and, very importantly, our cozy Chesterfield sofa, as well as the beloved Cabinet of Curiosity. The interior is completely re-used, recombined because everything is already there. Everything superfluous was given away if possible, or went to the social store. Even the newly installed toilet was built with recycled tiles, each one unique, instead of discarding them. The reduction of space and digitization, to reorganize ourselves, was a good decision and the right step at exactly the right time, because it is sustainable. It remains exciting.
Oh yes, almost forgot. We have green views, a colorfully blooming small urban meadow of bee-friendly flowers right outside the windows.
Adventure story or fairy tale, we remain flexible, cheerful and curious. And the story goes on, because "You shouldn't want to foresee the future, you should make it possible." (The Little Prince, Antoine de Saint Exupéry).